Latest Golf News
NEWSLETTER APRIL 2018
Dear Members,
The late rains and the superb efforts by our greens team have made the course lush and beautiful but a wonderful test of golf. The greens are rolling superbly allowing for great scoring – if of course you stick to greens and fairways. Funny that even though I have played this game for many years that's one lesson I keep forgetting…
We would also encourage members who believe in value for money to use their SAGA cards when making purchases at the club. It gives members a 10% discount on these purchases and enhances club security and given our history with this, that is indeed a very welcome benefit! Money can be added to your cards at any point of sale terminal in the club or via EFT (Use your member number and TOP UP as your reference, but please be aware that using EFT takes a couple of days for your credit to reflect.)
The long-awaited AGM covering the last two financial years, has now been scheduled for Wednesday, June 13th 2018. Further communications can be expected in this regard.
We are pleased to advise members that Nigel Roscoe as a PGA professional is offering golf lessons at Leeuwkop. For further details on timings, rates etc. please contact Nigel on 083-586 0184.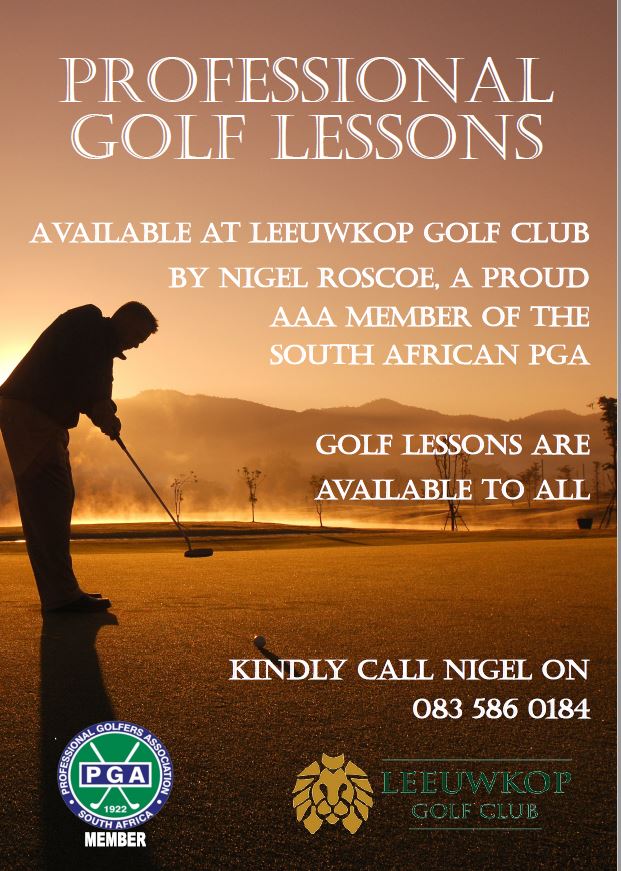 MARCH 2018 COMPETITION RESULTS
3/3/2018 MONTHLY MEDAL
A DIV = 1 JIM RAMSAY 73 NETT, 2 NEIL DAVIS 74 NETT
B DIV = 1 IAN FOSTER 65 NETT, 2 CRAIG RYALL 67 NETT
C DIV = 1 D YATES 32 PTS, 2 BRIAN BEZUIDENHOUT 32 PTS
SENIORS A DIV = DES SWEIDEN 72 NETT,
SENIORS B DIV = JOHAN NEL 36 PTS
LADIES GOLD = K VAN VUUREN 75 NETT
LADIES SILVER =TESS HUGHES 28 PTS
NEAREST TO PIN 3 =NEIL DAVIS, 12= RON STEPHENSON, 18 =BRUCE BOTHA
7/3/2018 MEAT COMP
1 JOHN STOBBS 35 PTS C/O, 2 NIGEL ROSCOE 35 PTS C/O
FRONT 9 =DERRICK IRVING 20 PTS, BACK 9= STEVE BACKUS 16 PTS
N.T.P 3 =RON STEPHENSON, 12= A LLOYD, 18 = ALBERT HARDIE
10/3/2018 BETTERBALL STABLEFORD
1. D YATES, B YATES 45, 2. BRUCE BOTHA, HUGH CROFFORD 45, 3. LOUISECROFFORD, DARREN BOTHA 44
N.T.P 12 = D BOTHA, 18 = SHAUN HURST, LONGEST DRIVE 9 = JONO KEY
14/3/2018 MEAT COMP
TONY DYER 39 PTS, STEWART BROWN 36 PTS
FRONT 9 D IRVING 20 POINTS, BACK 9 PETER LEONARD
N.T.P 3 D IRVING, 8 SCHEEPERS, 18 PETER HUTTON
24/3/2018 4 BALL ALLIANCE
1. IAN FOSTER, C RYALL, A PUTTER, GHOST 87 points
2 J RAMSAY, T BURKE, G STEPHENSON, S HURST 85
3 A ANDERSON, M MAKABA, D KAY, GHOST 84
N.T.P 3 = ALAN WALKER, 8 = ALBERT HARDIE, 18 =A DA CUNHA
AFTERNOON FIELD
T JOUBERT, D BLACK, A WALKER, PETER HUTTON
28/3/2018 MEAT COMP
1 BASIL MAN 35, 2 TONY DYER 33
FRONT 9 = S BACKUS 18, BACK 9 =ROY PAIGE 17
NTP 12 JOHN STOBBS, 18 P LEONARD
NTP FOR 2 HOLE 1 = JOHN STOBBS
31/3/2018 IPS
1 RON STEPHENSON 42 PTS, 2 TOMMY BURKE 40, 3 IAN MAWSON 37
AFTERNOON FIELD
1 A HARDIE 37, 2 J STOBBS 33
NTP 3 RON STEPHENSON, 12 IAN FOSTER, 18 IAN MAWSON
4/4/2018 MEAT COMP
1 JOHN STOBBS 39, 2 ANDY SIDDAL 39
FRONT 9 M FREEMAN 18, BACK 9 D BOEHM 19
NTP PIN FOR 2 HOLE 1= ALBERT HARDIE
NTP 3 JAN VAN RHYN, 18 R GIURICICH
Golf is meant to be a pleasant experience, assisting players in releasing some of the built up stresses of everyday life (which we all know interferes too much with our golf).
To this end, members are requested to always try and keep up with the fourball ahead, to repair all pitch marks and to carry a sandbag at all times to use on the fairways to ensure these stay as inviting as possible during our autumn and winter months.
We would also appeal to all members to keep our course as clean as possible by using the waste bins situated on the tee boxes to dispose of waste – it only takes a moment and makes for a much better experience for all.
Look forward to seeing you all on the course in the near term…
Regards,
Leeuwkop Communications